ABOUT ME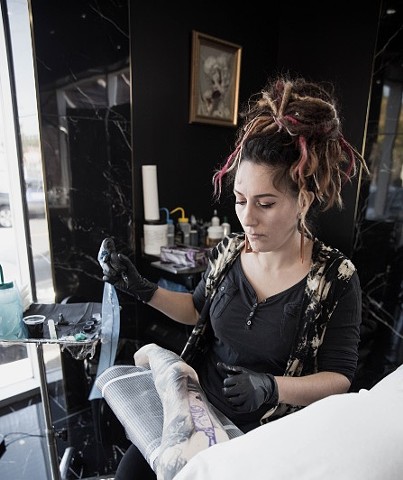 MADDALENA RUGGIERO was born in Toronto, Ontario in 1986.
Her love for art began at a young age when her mother used to draw her favorite movie characters on a magic slate pad before she left for work in the morning.
"I would wake up and get ready for school and see this beautiful drawing of Belle from Disney's Beauty and the Beast and I knew I wanted to be able to draw as good as my mother".
In 2004, Maddalena attended university at the Ontario College of Art and Design and graduated with a BA in Photographic Studies. It was here where she began drawing, painting, sculpting, book binding, photographing, and filming everything and anything that creatively inspired her. This helped shape the artist that she is today.
In 2008, she got her first tattoo and fell in love with the art form. It was a new art form she hadn't explored yet.
Tattooing has allowed her to create beauty in the skin and the opportunity to connect and create relationships with the living person. The clients entrusts her to adorn their body through the permanency of a tattoo. It is a sincere honour and privilege to be able to create beauty on the human form and in that, have that collector live with this new found beauty on their body for the rest of their lives.
"I had always wanted to do art for a living. Getting my first tattoo and enduring the painful process that comes with it really set a goal in my mind to master the craft. "
"Do what you love in service to those who love what you do"